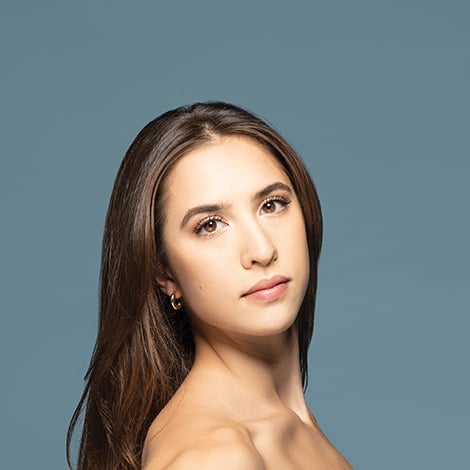 Anna Pellegrino
First Soloist
Joined The Sarasota Ballet in 2018 as an Apprentice, promoted to Corps de Ballet in 2019, promoted to Soloist in 2022, and promoted to First Soloist in 2023.
Born: Maryland, but raised in Connecticut
Training: Eastern Connecticut Ballet
Previous company: None
Favorite quote:  "Be fearless in the pursuit of what sets your soul on fire." ~Jennifer Lee
Favorite role: It's a tie between Russian Girl in Serenade and the Jealous Sister in Las Hermanas. Russian Girl was such a dream role with some of the best music and choreography in neoclassical ballet, and I loved the challenge of portraying a complex story in Las Hermanas.
Favorite costume: The ballroom costumes from Ashton's Apparitions. They were unique to each dancer and I think is the closest I'll get to feeling like a Disney princess!
Fun fact: I have two sets of twins in my family, I have a twin brother and identical twin sisters!
Featured roles include: Ashton's Birthday Offering, Dante Sonata, Façade, Valses nobles et sentimentales, Varii Capricci; Balanchine's Divertimento No.15, Donizetti Variations, The Four Temperaments, Serenade, Western Symphony; Bintley's A Comedy of Errors; Broad's Frequency de Valois' The Rake's Progress; Hurtz; Graziano's The Pilgrimage, House's Living Ghosts, Kobborg's La Sylphide; Lang's Shades of Spring; MacMillan's Danses Concertantes, Las Hermanas; Taylor's Company B; Tharp's Nine Sinatra Songs; Robbins' Fancy Free; Walsh's I Napoletani.