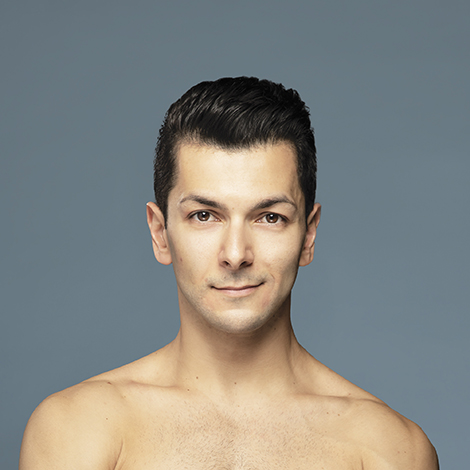 Ricardo Graziano
Principal Dancer
Joined The Sarasota Ballet in 2010 as Soloist, promoted to Principal in 2011, given the title of Resident Choreographer in 2014.
Born: Mogi das Cruzes, São Paulo, Brazil
Training: Akademie des Tanzes (Germany), Marcela Campos Escola de Bailados (Brazil)
Previous company: Tulsa Ballet
Favorite role: It's hard to pick a favorite role, but two standouts are Armand (in Ashton's Marguerite and Armand) and Colas (in Ashton's La Fille Mal Gardée). La Fille was my first full length ballet with the Sarasota Ballet as a Principal Dancer, making the occasion extremely special, but not only that, the ballet itself is absolutely wonderful and fun. Marguerite and Armand, though a one-act ballet, is filled with drama and lots of acting, while going through one of the most beautiful pas de deux. Acting is definitely something I love to do on stage.
Favorite costume: I am not sure I have a favorite costume I have worn but I absolutely love the women's tutus for Birthday Offering. The assortment of colors plus the regality of the designs make the ballet that much more special.
Fun fact: I have just recently become an American citizen.
Lead and featured roles include: Ashton's Birthday Offering, Dante Sonata, Enigma Variations, Façade, La Fille mal gardée, Illuminations, Jazz Calendar, Marguerite and Armand, Méditation from Thaïs, Monotones II, Symphonic Variations, Valses nobles et sentimentales, Les Patineurs, Varii Capricci, The Walk to the Paradise Garden; Balanchine's Diamonds, Emeralds, The Four Temperaments, Prodigal Son, Stars and Stripes, Western Symphony, Who Cares?; Bintley's A Comedy of Errors, 'Still Life' at the Penguin Café; Darrell's Othello; de Mille's Rodeo; de Valois' The Rake's Progress; Fokine's Les Sylphides; Graham's Appalachian Spring; House's Living Ghosts; Lang's Shades of Spring; MacMillan's Danses Concertantes, Elite Syncopations, Las Hermanas; Nijinsky's L'Après-midi d'un Faune; Nureyev's Raymonda Act III; Robbins' The Concert, Fancy Free, In The Night; Tharp's In the Upper Room, Nine Sinatra Songs; Taylor's Airs, Brandenburgs; Tuckett's Changing Light, Lux Aeterna; Tudor's Lilac Garden; Wheeldon's The American, There Where She Loved; Wright's Giselle, Summertide.