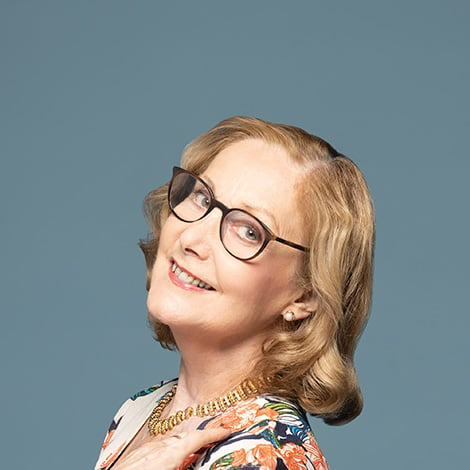 Margaret Barbieri
Assistant Director
Born in South Africa of Italian parents, Margaret Barbieri moved to England to study at The Royal Ballet School. In 1965 she joined The Royal Ballet Touring Company (now Birmingham Royal Ballet), and became a Principal Dancer in 1970. During a highly successful 25-year dancing career, she danced most of the leading roles in the classical repertoire (including The Sleeping Beauty, Swan Lake, Coppélia, Romeo and Juliet, La Fille mal gardée, Taming of the Shrew, The Two Pigeons, and The Dream). However it was her major impact in the title role of Giselle at the age of 21 that first established her special reputation as a Romantic Ballerina.
In 1973 she was invited to dance Giselle at the Deutsche Oper in Berlin and received high praise from the press and audiences alike, a triumph which she repeated in 1974 when she returned to her native South Africa to dance the role in Durban. She replaced an indisposed Natalia Makarova at short notice in the same role for Norwegian National Ballet and made many guest appearances with companies internationally in Giselle, Swan Lake, Coppélia, and Cinderella. In addition to guesting, Barbieri also performed worldwide with The Royal Ballet.
Barbieri worked closely with most of the great masters of the 20th Century, including Sir Frederick Ashton, Sir Kenneth MacMillan, Dame Ninette de Valois, John Cranko, Antony Tudor, Rudolf Nureyev, and Hans van Manen. Roles were created on her by Ashton, Sir Peter Wright, Tudor, Sir David Bintley, Michael Corder, Ronald Hynd, and Joe Layton. Many of her best-known roles were televised, including Swanhilda (Coppélia), Black Queen (Checkmate), The Mother (Bintley's Metamorphosis), Young Girl (Le Spectre de la Rose), and van Manen's Grosse Fuge. With David Ashmole, she was featured in BBC TV's Ballet Masterclass series, given by Dame Alicia Markova, who later coached her in Fokine's The Dying Swan and Pavlova's The Dragonfly.
Barbieri retired from The Royal Ballet in 1990 to become Director of the new Classical Graduate Programme at London Studio Centre and Artistic Director of the annual touring company, Images of Dance. During her tenure, she was instrumental in devising the Classical Ballet Course for the BA Honours degree. Here she gave Christopher Wheeldon his first professional commission and Sir Matthew Bourne his first classical ballet commission. She also found time to teach at Birmingham Royal Ballet Company, English National Ballet School, and The Royal Ballet School. Additionally she served on The Royal Ballet's Board of Governors from 1994-2000 and participated as an External Assessor for the Arts Council of England from 1995-2001.
Her staging credits include Swan Lake Act II, Le Jardin Animé from Le Corsaire, and Kingdom of the Shades from La Bayadère for Images of Dance; Nureyev's production of Raymonda Act III for K-Ballet in Japan; Ashton's Façade for Scottish Ballet, K-Ballet, and Oregon Ballet Theatre; and The Two Pigeons for K-Ballet and State Ballet Theatre of Georgia. During the last 10 years at The Sarasota Ballet she has staged Wright's production of Giselle, Mirror Walkers, Summertide; Ashton's Birthday Offering, Façade, La Fille mal gardée, Jazz Calendar, Les Patineurs, Les Rendezvous, Tweedledum and Tweedledee, The Two Pigeons, Valses nobles et sentimentales, The Walk to the Paradise Garden; Bintley'sFour Scottish Dances; Bourne's Boutique; Cranko's Pineapple Poll; Darrell's Othello; de Valois' The Rake's Progress, Checkmate; Fokine's Les Sylphides and Petrushka; Layton's The Grand Tour; Nureyev's Raymonda Act III; Samsova's production of Paquita; Wheeldon's The American, There Where She Loved.
Barbieri has been invited to judge at numerous ballet competitions across the globe, including Brazil, Japan, South Africa, the United States, and Europe. In April 2010, she was awarded Distinction by the University of the Arts, London, for her Post Graduate Certificate in Teaching and Learning. In 2013 she was invited to speak at the Ashton Symposium in London and became an Ashton Associate for the Sir Frederick Ashton Foundation.
Having previously staged several works for The Sarasota Ballet, Barbieri was appointed Assistant Director in August 2012. During her time with the Company, in addition to staging ballets, Barbieri has focused on the coaching and nurturing of dancers, passing on her unparalleled experience and artistry to former, current, and future members of the Company. Her expertise as a stager proved especially valuable during the 2020 – 2021 Digital Season, as she oversaw revised production techniques necessary to stage ballet for a digital medium. Through her keen eye and remarkable dedication and work ethic, her impact on the Company is evident from the moment the curtain rises.