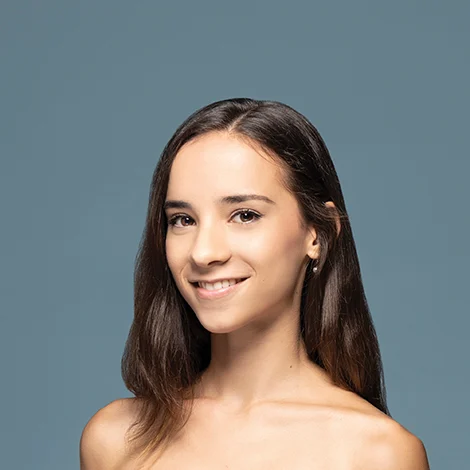 Marijana Dominis
Principal Dancer
Joined The Sarasota Ballet in 2019 as Coryphée, promoted to Soloist in 2021, promoted to Principal in 2022.
Born: Zagreb, Croatia
Training: Munich Ballet Academy
Previous company: Finnish National Ballet
Favorite quote: "Our intuition is like a muscle; we must practice listening to it and trusting its wisdom. When you take the time to ask and keep listening for the answer, being at peace becomes easy." ~Lisa Prosen
Favorite role: 'One for my baby' from Nine Sinatra Songs by Twyla Tharp. That role was the one that taught me more about artistry and how important the connection is between me and my partner. Also, the music took me back to my childhood when I used to listen to Frank Sinatra at home with my family.
Favorite costume: Tutu for Vision solo in Sleeping Beauty! That tutu belonged to our assistant director Margaret Barbieri back when she danced with Sadler's Wells Royal Ballet in London. It was a huge honor for me to get to wear that very same tutu!
Fun fact: When I was just 3 years old I started walking on my tippy toes all the time. My mom knew right away which classes she needed to put me into! Who knew that would be something I do professionally now and love it more and more every day!
Lead and featured roles include: Ashton's Birthday Offering, Dante Sonata, Façade, Les Patineurs, The Sleeping Beauty Vision Solo, Valses nobles et sentimentales;  Balanchine's Divertimento No.15, Donizetti Variations, The Four Temperaments, Serenade, Theme and Variations, Western Symphony; Bintley's A Comedy of Errors; Bond's Excursions; Broad's Frequency Hurtz; Graziano's En Las Calles de Murcia, The Pilgrimage, Shostakovich Suite, Sonatina; Hart's John Ringling's Circus Nutcracker; House's Living Ghosts; Kobborg's La Sylphide; Lang's Shades of Spring; MacMillan's Elite Syncopations, Las Hermanas; Taylor's Brandenburgs, Company B; Tharp's Nine Sinatra Songs; Walsh's I Napoletani; Wright's Giselle, Summertide; Robbins' In The Night.