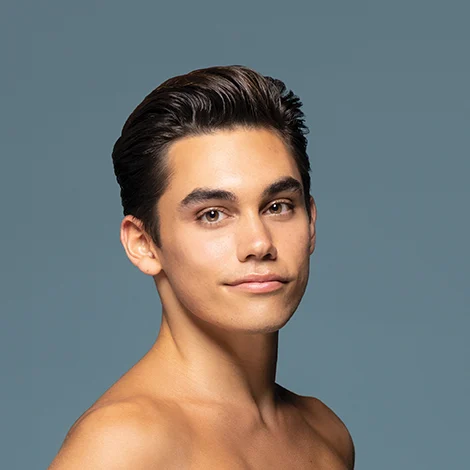 Evan Gorbell
Soloist
Joined The Sarasota Ballet in 2021 as an Apprentice, promoted to Corps de Ballet in 2022, promoted to Coryphée in 2023, and promoted to Soloist in 2023.
Born: Jacksonville, Florida
Training: Miami City Ballet School, Dreyfoos School of the Arts
Previous company: None
Favorite quote: "The only rule is don't be boring, and dress cute wherever you go. Life is too short to blend in." ~Paris Hilton
Favorite role: Melancholic in George Balanchine's The Four Temperaments. I loved this role because it challenged me technically and artistically. While the choreography never changed, I was able to find new intentions behind each movement every time I danced it. The role was constantly evolving and growing and I found that really exciting and fulfilling to dance.
Favorite costume: My favorite costume I've gotten to wear is the unitard in Kenneth MacMillan's Elite Syncopations. I loved this costume because of all the bright colors and patterns. My big pink hat also added a fun touch.
Fun fact: A fun fact about me is that I love fashion. I hope to pursue a career involving fashion after I retire from dancing.
Featured roles include: Ashton's Birthday Offering, Façade, Les Patineurs, Varii Capricci; Balanchine's Divertimento No.15, The Four Temperaments, Western Symphony; Bintley's A Comedy of Errors; Broad's Frequency Hurtz; de Valois' The Rake's Progress; House's Living Ghosts; Lang's Shades of Spring; MacMillan's Danses Concertantes; Petipa's The Sleeping Beauty Act III Pas de Quatre; Wright's Giselle, Summertide.