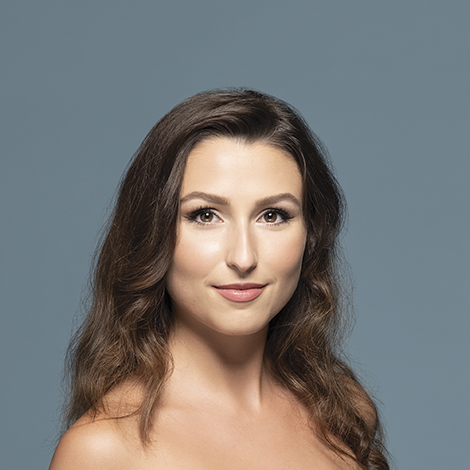 Dominique Jenkins
Coryphée
Joined The Sarasota Ballet in 2019 as an Apprentice promoted to Corps de Ballet in 2020,  promoted to Coryphée in 2022.
Born: La Jolla, California
Training: The Sarasota Ballet Studio Company, Richmond Ballet
Previous company: None
Favorite quote: "Success is liking yourself, liking what you do, and liking how you do it." ~Maya Angelou
Favorite role: The Ballerina in the second movement of Balanchine's Western Symphony. I loved getting to perform a part where I had to be graceful and soft, while also portraying a story through the technically demanding steps. The character is this elegant ballerina who finds herself dancing with a free spirited cowboy. He thinks he knows what he's doing, but really she just lets him have the chance to dance with her. By the end of it, there's a bittersweet feeling when she has to leave him. Almost a longing for one more moment to be together before he rides off into the sunset with his horses.
Favorite costume: Sir Frederick Ashton's Rhapsody. It's a long, flowy dress adorned with crystals and a matching arm band. The hair is equally as dreamy with big curls and a gold cage-like crown. My favorite part is the jewels that pin into the big curly bun. It's the epitome of beauty and grace, just like the ballet itself.
Fun fact: I have dual nationality in the US and the UK!
Featured roles include: Ashton's Birthday Offering, Façade, Les Patineurs, Valses nobles et sentimentales, Rhapsody; Balanchine's Divertimento No.15, The Four Temperaments, Western Symphony; Bintley's A Comedy of Errors; Graziano's Sonatina; House's Living Ghosts; Kobborg's La Sylphide; Lang's Shades of Spring; MacMillan's Elite Syncopations; Morris's The Letter V; Petipa's The Sleeping Beauty Act III Pas de Quatre; Robbins' Fancy Free; Wright's Giselle, Summertide.