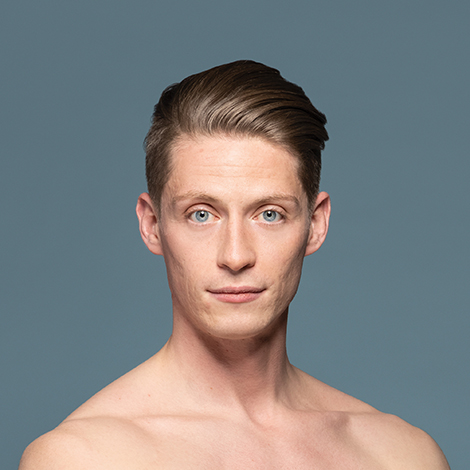 Daniel Pratt
First Soloist
Joined The Sarasota Ballet in 2012 as Corps de Ballet, promoted to Coryphée in 2019, promoted to Soloist in 2022, and promoted to First Soloist in 2023.
Born: Lewisham, South London, England
Training: Central School of Ballet, London
Previous company: Northern Ballet (Leeds, England)
Favorite quote: "If you're looking for something to turn up, why not start with your shirt sleeves?"  and "What's for you won't go by you". ~Traditional Scottish Proverb
Favorite role: There are too many to pick! Ashton's Monotones II. The Leaves are Fading by Anthony Tudor. This gentle, elegiac ballet really surprised me and stays in my mind. Emeralds is special for me too.
Favorite costume: The tunics designed by Karinska for the men in both Emeralds and Diamonds by George Balanchine. They're wonderfully cut, stunningly decorated and make you feel beautiful.
Fun fact: I am an identical twin.
Featured roles include: Ashton's Apparitions, Birthday Offering, Enigma Variations, Façade, Jazz Calendar, Monotones II, Sinfonietta, Valses nobles et sentimentales, Varii Capricci, A Wedding Bouquet; Balanchine's Divertimento No.15, Emeralds, The Four Temperaments, Serenade, Western Symphony; Bond's Excursions; Broad's Frequency Hurtz; Darrell's Othello; de Valois' The Rake's Progress; Graham's Appalachian Spring; Graziano's Amorosa, En Las Calles de Murcia, Sonatina; House's Living Ghosts; Kobborg's La Sylphide; Lang's Shades of Spring; MacMillan's Danses Concertantes; Morris's The Letter V; Robbins' Fancy Free; Taylor's Brandenburgs, Company B; Tharp's Nine Sinatra Songs; Tudor's The Leaves are Fading; Tuckett's Lux Aeterna, The Secret Garden; Wheeldon's The American, There Where She Loved; Wright's Summertide.