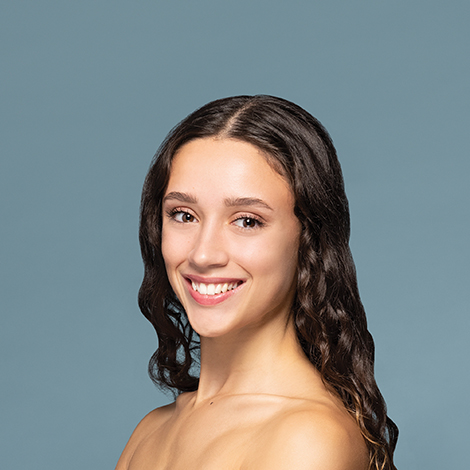 Gabriella Schultze
Corps de Ballet
Joined The Sarasota Ballet in 2022 as Corps de Ballet.
Born: Seattle, Washington
Training: Pacific Northwest Ballet School, Houston Ballet Academy, Ballet West Academy
Previous company: Ballet West II
Favorite quote: "Great artists are people who find the way to be themselves in their art." ~Margot Fonteyn
Favorite role: Definitely Frederick Ashton's Birthday Offering. It was such an honor to start my professional career by performing this at the Joyce Theater in New York City in August 2022! Performing the Beriosova solo was challenging and also incredibly rewarding; I really valued the one-on-one coaching with Maggie and Iain. I especially enjoyed the finale, it is so grand and I love how it features lots of jumps and is such a high energy ending to the ballet. The rush of adrenaline and excitement I experienced when the curtain went up for opening night was something I'll remember forever!
Favorite costume: The Milkmaid from Frederick Ashton's Façade stands out as a particularly memorable costume. The dress was adorable; it had short white puffy sleeves and a light pink bodice with a layered blue skirt. The highlight of the look for me however is the headpiece; it has two braids with light blue bows at the end- they stick out like Pippi Longstocking. Every time the audience saw me for the first time they burst out laughing, which made me laugh too when I was dancing!
Fun fact: I love film photography and developing my own film in a darkroom.