December 15-16, 2023
P3 – MOMENTS OF MEANING
Featuring Balanchine's Theme and Variations, Kobborg's Les Lutins, Ashton's The Walk to the Paradise Garden, Vahonen's Flames of Paris pas de deux, and Tharp's In the Upper Room
George Balanchine's "Theme & Variations" is "the really perfect piece" to showcase the classical skills of the current company of dancers.
A return to regality and beauty, George Balanchine's Theme and Variations opens Program Three.
This masterful work transports audiences to the height of the Russian Imperial Ballet with its glittering costumes, masterful choreography, and Tchaikovsky's evocative score. The program continues with a selection of divertissements that will provide audiences with a smorgasbord of works including Johan Kobborg's Les Lutins, Sir Frederick Ashton's The Walk to the Paradise Garden and Vasily Vanonen Flame's of Paris pas de deux. Twyla Tharp's, In the Upper Room, closes the December program with a "transcendent experience for both audience and performers". Created in 1986, the work features a commissioned score by Philip Glass and showcases Tharp's choreography, which blends a diverse range of movements, including boxing, tap dance, yoga, ballet, and full-speed sprinting.
Repertoire will include:
Theme and Variations
Choreography by George Balanchine
Music by Pyotr Ilyich Tchaikovsky
Divertissement: Les Lutins
Choreography by Johan Kobborg
Music by Henryk Wieniawski and Antonio Bazzini
Divertissement: The Walk to the Paradise Garden
Choreography by Sir Frederick Ashton
Music by Frederick Delius
In the Upper Room
Choreography by Twyla Tharp
Music by Philip Glass
PRICE
$35 – $125
RUN TIME
Approximately 2 hours with two 20 minute intermissions
Venue
Sarasota Opera House
61 N Pineapple Ave, Sarasota, FL 34236
Get Directions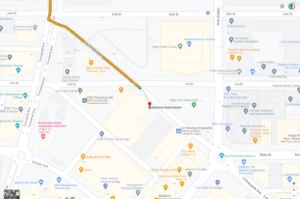 Creative Team
THEME AND VARIATIONS
Choreography
George Balanchine
Music By
Pyotr Ilyich Tchaikovsky
DIVERTISSEMENT: LES LUTINS
Choreography
Johan Kobborg
Music By
Henryk Wieniawski and Antonio Bazzini
DIVERTISSEMENT: THE WALK TO THE PARADISE GARDEN
Choreography
Sir Frederick Ashton
Music By
Frederick Delius
DIVERTISSEMENT: FLAMES OF PARIS PAS DE DEUX
Choreography
Vasily Vahonen
Music By
Boris Asafyev
IN THE UPPER ROOM
Choreography
Twyla Tharp
Music By
Philip Glass